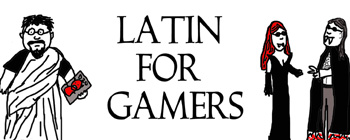 In progress; last updated March 7, 2005
Alas, Latin continues to be the language of choice when it comes to making up stuff for Vampire role-playing games. One would at first think this would be a good thing -- new life for a dead language and all -- but, as usual, no one bothers to try to get it right.
Why does this matter? Well, for one thing, enough people in the world (dark or otherwise) know Latin that it will make you look stupid, although maybe not as much -- and I say this with all affection as a fellow vampire LARPer -- as those fangs that don't match your tooth color and cause you to lisp a bit. (Unless you're wearing gold or silver gangs. Those fangs be stylin'.)
So I was hoping that the new World of Darkness might be better than the old one for this sort of thing, and it is -- because they haven't yet published as many books.
Let's begin.
The World of Darkness
Momento mori: Under "Ghosts," p. 208: "[Ghosts] can also regain Essence whenever they are remembered by the living .... The Storyteller awards Essence whenever he thinks an appropriate instance of momento mori occurs." Now, two things: one, the word is spelled memento. Two, the phrase means, "remember [that you are going] to die," not "remember the dead" (or something similar). When you see this on a gravestone, it doesn't say,
...but rather,
Now, I'm not saying you shouldn't leave flowers all the same.
Numina: Under "Ghosts," p. XX (I'm going to leave that page reference right now, as a sort of homage): "singular numen" -- yes! This fixes a midly irritating problem with the word in the old WOD. I just wanted to promise a cookie to whoever wrote this section, unless it was the same person who made the momento mori mistake, in which case it cancels out.
Vampire: the Requiem
Avus(es): (p. 256) Plural is, in fact, avi. Also, I'd pronounce this ah-vuss (or -wuss, to be really pedantic) rather than ay-vuss (p. 84), but that's a minor quibble.
Cunctator: (p. 86) This means "delayer" (most famously applied to a certain Roman general who saved Rome from the Carthaginians by not rushing into battle), so it's maybe understandable at a stretch but still a little odd as a word for a vampire who avoids killing victims.
Invictus: So far, so good; no one in published work so far (that I have seen) is trying to make this a plural for members of the Covenant, but refer to "The Invictus" as the Covenant itself. Fair enough. Presumably this is an adjective describing a noun that has been dropped through the centuries, e.g., Ordo Invictus (the Unconquered Order).
Lancea Sanctum: They said they were going to fix this one before the game was actually published; they lied. (But at least so far no one has tried to claim that it was done on purpose to portray the mental confusion that afflicts many vampires, arising from torpor dreams -- because face it, really, someone has just f***ed up.) In any event, it's such an obvious grammar problem that anyone with a couple months of first-semester Latin, possibly even if they were failing and dropped out, should be able to see it: the adjective must agree with the feminine noun lancea, and thus should be sancta. Heck, most people with only a little Latin tend to believe (wrongly, I hasten to add) that "agree with" means "end with the same exact letter as" -- and so should be able to get this one right entirely through ignorance!
Unfortunately for me, my character is in this Covenant, and so I'm going to pretend it's an uncommon but grammatically almost reasonable masculine genitive plural (sanctum for sanctorum, which happens in poetry from time to time), "the lance of the holy ones / of the Sanctified." Perhaps that is heresy, but we're talking adjective agreement here. Priorities and all. -- I am not looking forward to the Lancea Covenant book; it's almost sure to contain as much bad Latin as any five other White Wolf books.
On the other hand, I should mention that I saw a German-language WOD forum where they were making fun of the name of the Covenant; and that made me glad. Not that the internet is a safe haven, to be sure: on a fan website for the Lancea Sanctum I saw the word "crucifixication." I'm pretty sure the author meant "crucifixiatificationizing."
Vinculums: (p. 42) The correct plural is Vincula. Thank you.
Vitae: (passim) Again. Sigh.
And while it's not a Latin question, can someone tell me why "amaranth" is once again the "Old Form" word for slurping down the heart's blood of another vampire? Why not "millet" or "spelt"? Or "quinoa." I'd totally be worried if someone threatened to commit quinoa upon my person. And you would still be able to present the Ventrue Primogen with a box of breakfast cereal from the natural foods aisle as a subtle threat.
New for September 2015: Latin for the Awakened!
Home || Contact: praefectus [at] latinforgamers [dot] net